Are you still using paper business cards? Make the switch today and start
vibling.
From entrepreneurs to influencers, startups to corporations… Thousands of people and businesses of all size trust Vibl to grow their network. Join us!

Vibl Now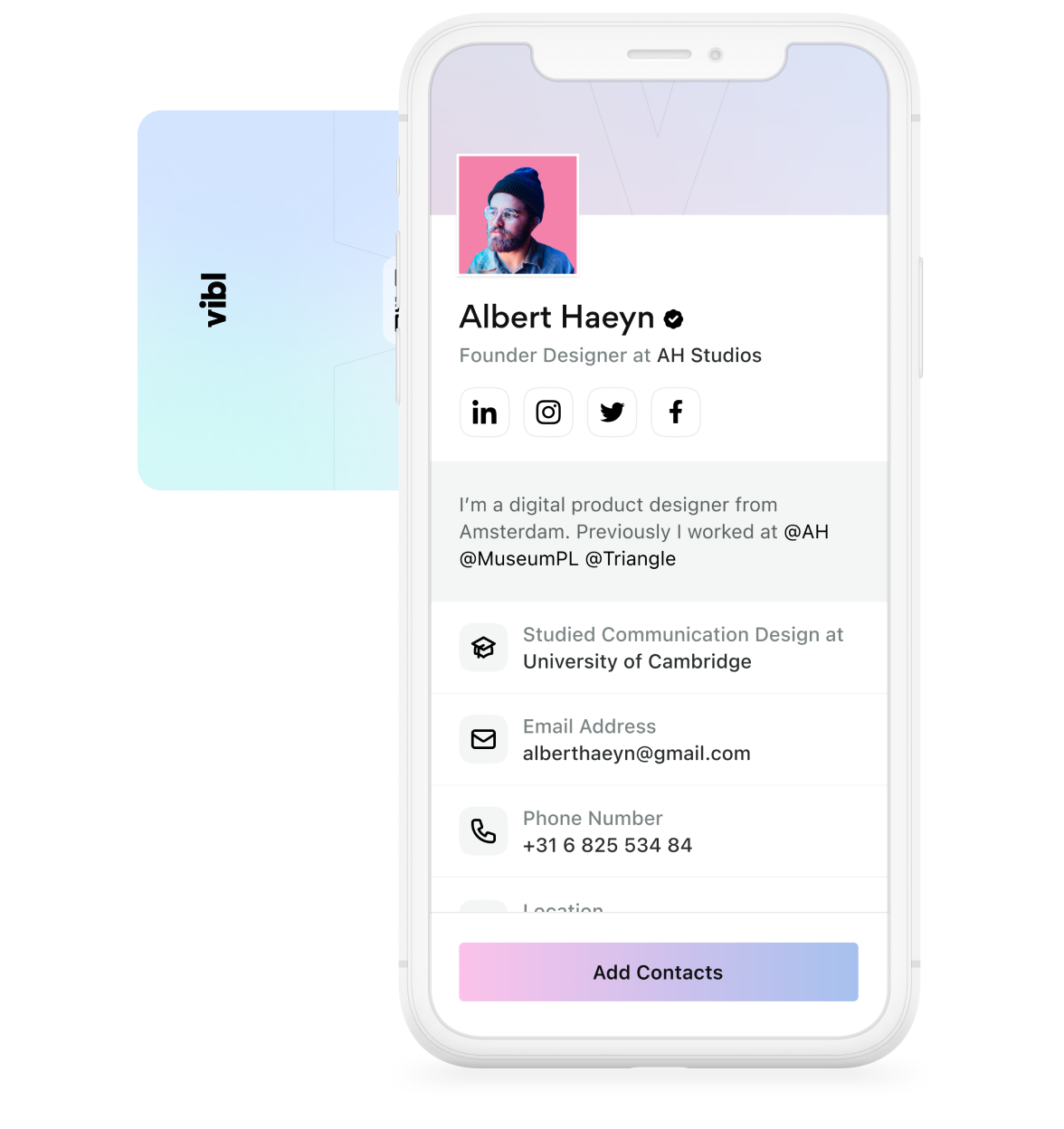 Discover some of our key features
Digital.
Adapts to Everchanging You
Can your paper business card keep up with your fast changing information? With Vibl, you can update your phone number, social media, title and many more at anytime, anywhere.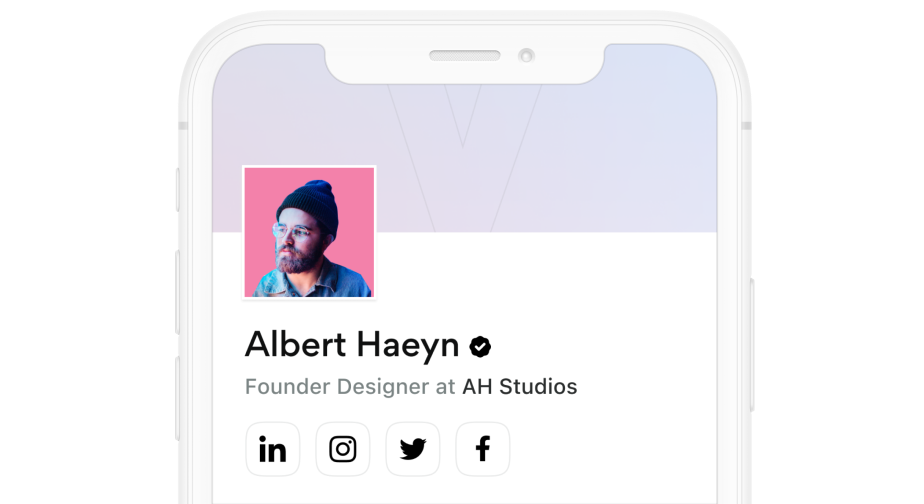 Contactless.
The Most Powerful Chip Ever
No more handing out business cards anymore. Simply touch your Vibl smart card to your contact's phone and let our Ntag216 chip do its magic. Voilà, you have a new business opportunity!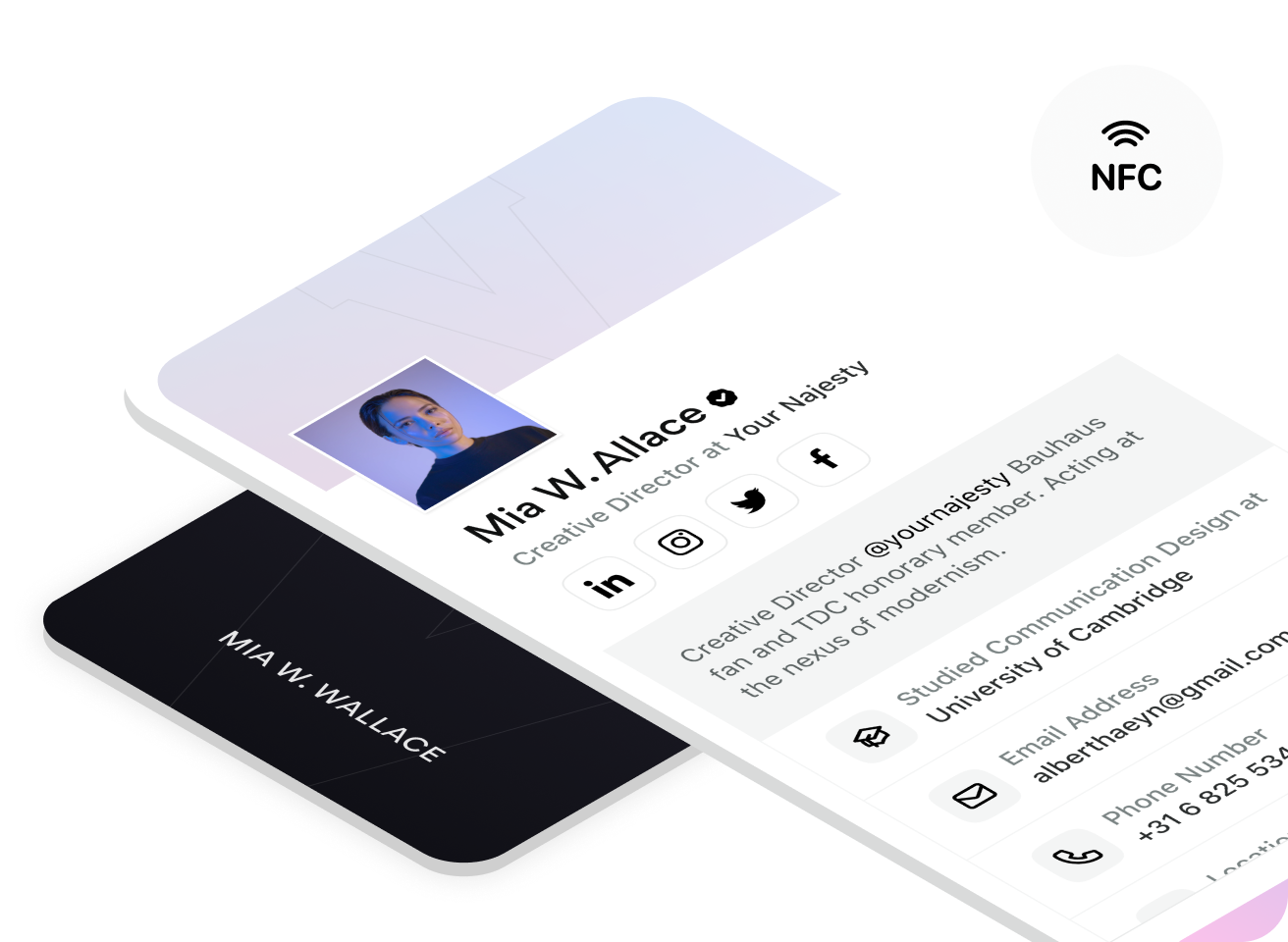 How Vibl Works
Order Your Card
Choose your Vibl smart business card and place an order online to be delivered at your address.
Create A Profile
Create and start using your Vibl profile today. You can sync it with your Vibl card as soon as it arrives.
Tap It, Match It
Touch your Vibl card to your smartphone, tap notification appearing on your screen and login to your account. That's it!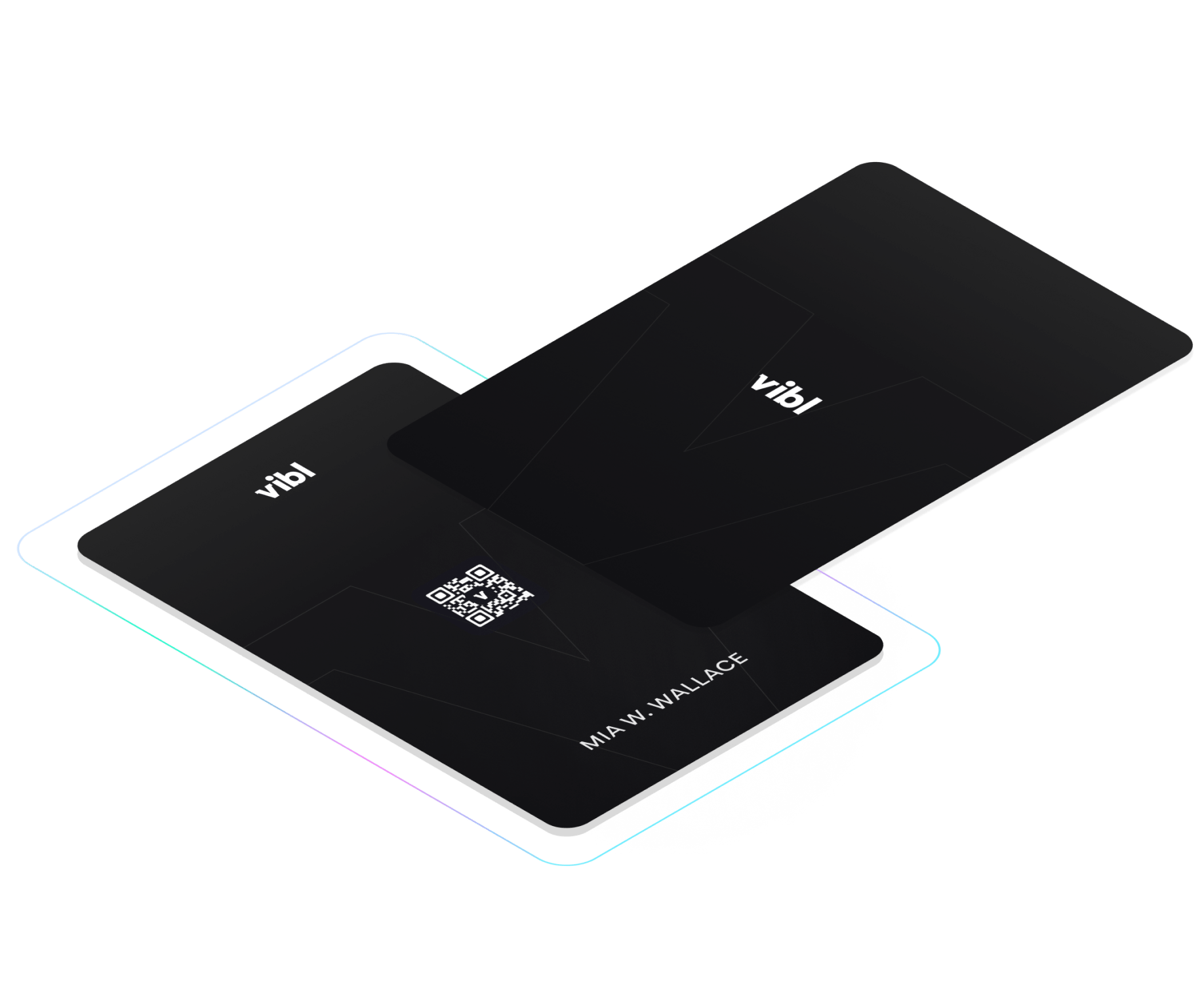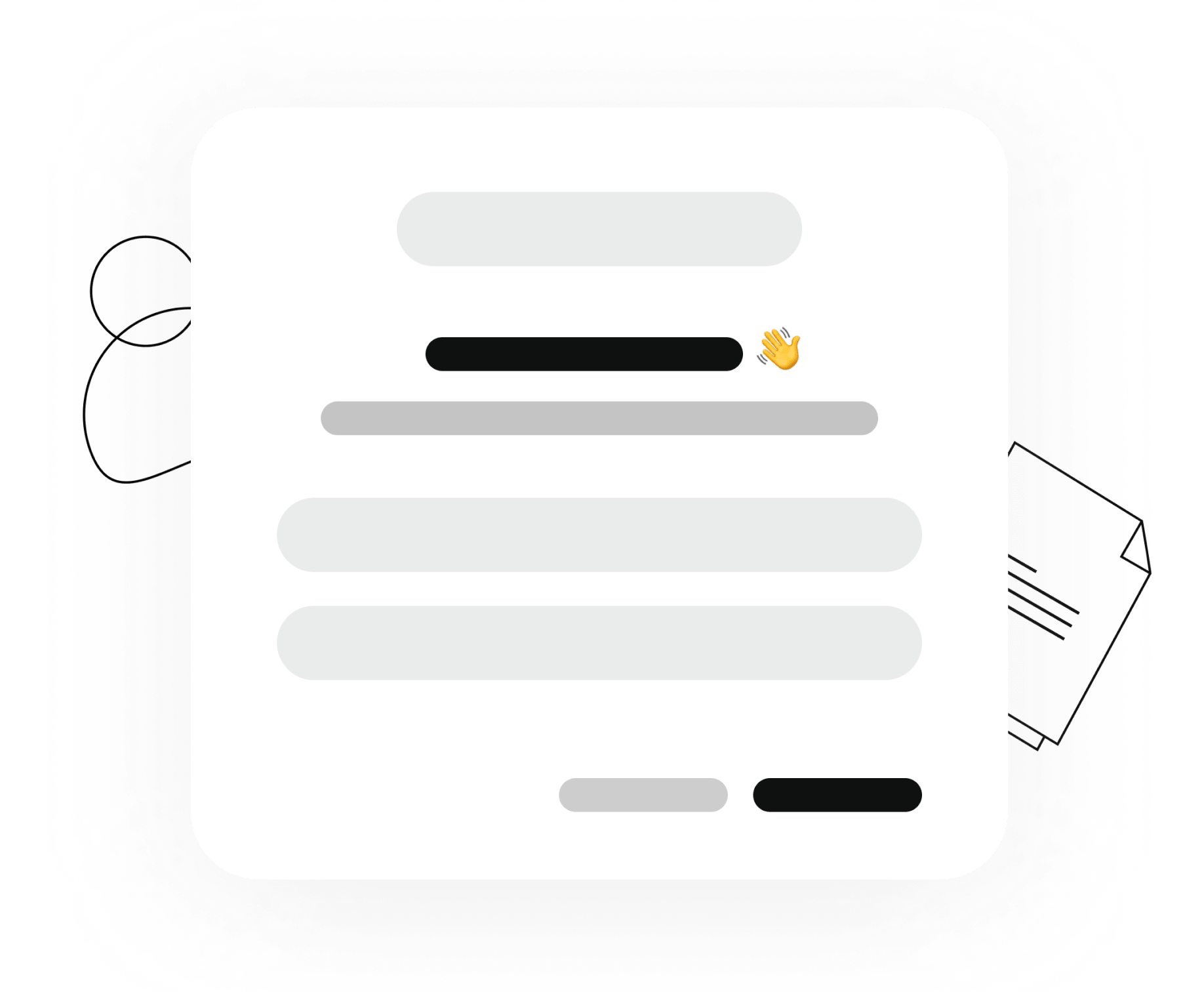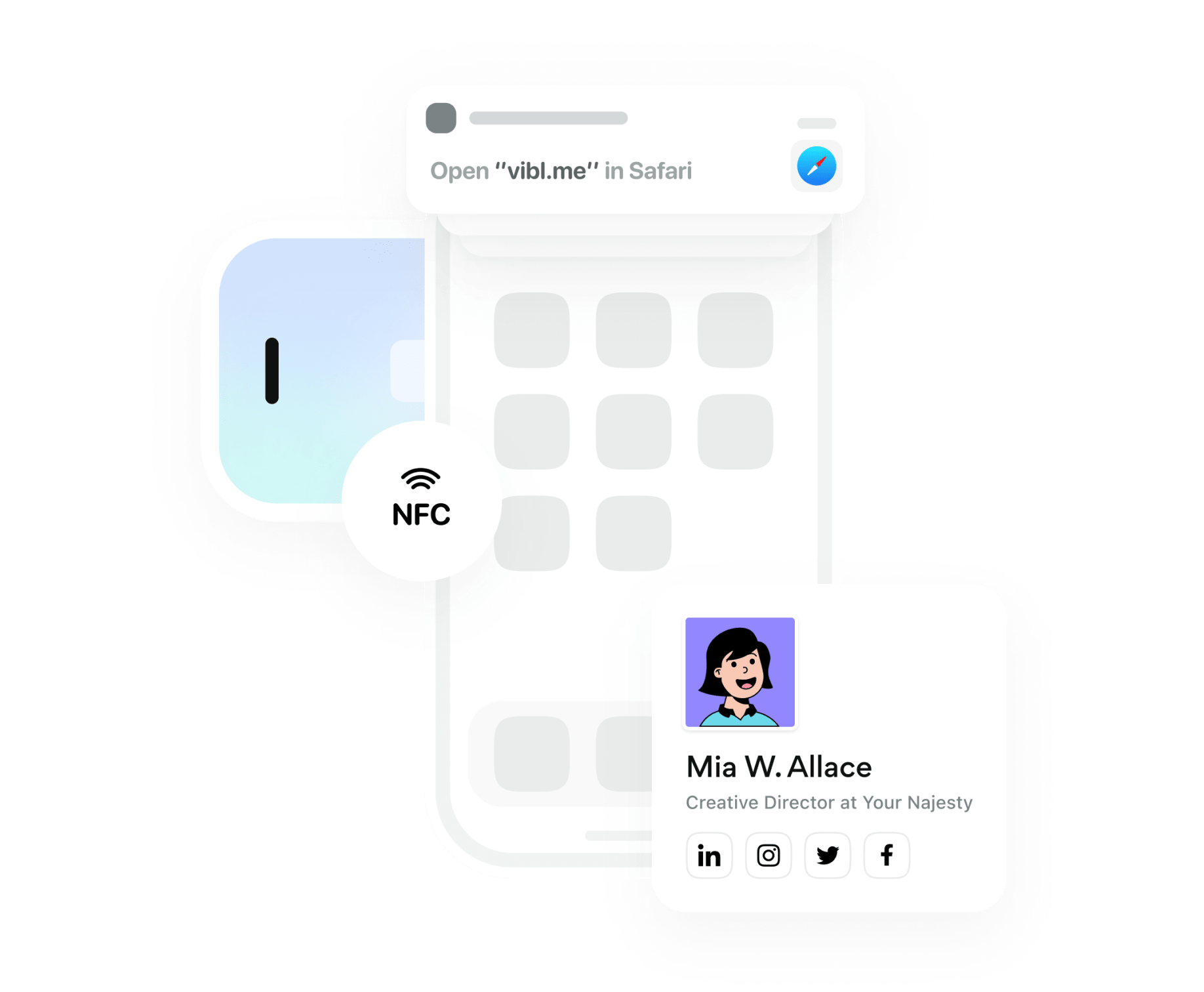 Frequently Asked Questions
Vibl card works with nearly all kinds of modern smartphones.
iPhone XR and later models seamlessly interact with Vibl cards without needing any extra step or application. All iPhone models between iPhone 7 and XR require activating NFC feature located on the Control Center. iPhone 6 and earlier models running iOS 14 or later can read QR code located behind Vibl cards.
Almost all Android phones have NFC capability requiring no additional app. Though, you may need to activate NFC feature from your settings menu. Some Android phones with fewer features though, are lacking NFC functionality and may require downloading additional apps to read QR code.
For companies, we design unique Vibl cards solely with their own branding for their orders of 100 or more cards and go into production upon their approval. If you want to place an order of corporate Vibl cards, please contact us at [email protected] for details.
Customization option is unfortunately not available for individual users at this moment.
To connect a Vibl card with a profile for the first time, read the card to your phone and click the notification that appears on your screen.
In order to read your card, you may need to activate the NFC functionality of your phone or read the QR code located on the back of the Vibl card with your smart phone's camera. Some mobile devices require downloading additional apps to read QR code.
Once you tap on the notification, open the link with your preferred browser directing to the login page. If you have a Vibl profile, simply login, or else, register to create a new profile. The card you read for the first time will match with the first profile you either registered or logged in.
For more, please watch our How It Works video.
Do you believe you have done all that mentioned above and are still having trouble syncing your Vibl card with your profile? Let us know about that on live chat by clicking the chat bubble located on the right bottom corner of your screen or email us at [email protected]
Your Vibl card shares the information you choose to showcase on your Vibl profile. Editing a Vibl profile is as easy as it is on any social media. Simply login to your account, tap Settings and select Edit Profile. Currently, you can add and share following information on your account;
Cover image
Profile image
Name
Biography
School
Field of study
Company
Job title
Phone number
E-mail address
Website
Address
YouTube video
Links to your social media
No. First of all, your Vibl profile is absolutely free and current features will always be. You are only recommended to make a one-time payment to purchase a Vibl card and you will never be asked to make another payment again.
Please note that in the future, there may or may not be paid plans including extra features.
From the day you received your Vibl package until the end of the 14th day, you may return your merchandise with no questions asked. To be eligible for a return, your item must be unused, in the same condition and in the original packaging that you received it. To complete your return, we require a receipt or proof of purchase.
If your Vibl card arrived in poor condition, you may be eligible for replacement upon photo proof within 48 hours of delivery. If you are having trouble activating your Vibl card or reading NFC chip via compatible devices, please contact us first. Most technical issues could typically be solved with some tips from our team.
Once your return is received, we will notify you of the approval or rejection of your refund upon inspection. Once approved for a refund, it will be processed and a credit will automatically be applied to your credit card or original method of payment within 10 business days.
Here is what we heard about
Vibl

from the people like you...

Emre Kocadag
Vice Chairman at Besiktas JK

Honestly, I do not use business cards often but when I do, they are the life-changing moments and I cannot waste them away with a business card that is doomed to be thrown away. Which is why I switched to Vibl.

Nicole Bogott
Founder of The Philia Project

The nature of my business and its growth depend on my ever-growing network. Vibl cards are great conversation starters and people can connect with me easily which leads to actual results.

Ali Aslan
TV Presenter & Moderator

I owe milestones of my life to being out there meeting the right people. Vibl cards empower me to take this game to another level, control my ever-changing information and the way I connect with the community.

Aylin Once
Founder at Antoa

From product design to manufacturing to marketing and sales… Your own business requires growing your network with countless contacts. Vibl become the greatest tool for me to do that highly efficiently!

Berceste Seber
Sports Psychologist & TV Presenter

Sport psychology became a hot topic as the athletes, coaches, managers and media realize how essential mental stability is for a world class athlete. My goal is to establish meaningful relationships with all these stakeholders and Vibl assists me doing this effectively.

Ata Uzunhasan
Managing Director at GBA

I meet tens of start-up founders, connect with new investors and attend multiple events every week. Vibl is the fastest and most convenient way for me to share all the important business information, in person or digitally, across the ecosystem.

Cigdem Duru
Supply Chain Director at P&G

In the last decade, I was assigned to nearly a dozen of different positions in 3 different countries. This is why I truly appreciate how I can tailor my title, contact addresses, promo-videos, web links and many more at any time, anywhere and instantly.

Bora Usal
Head of Vendor Mgmt. at Amazon

Innovation has always been a crucial part of my profession and a personal passion. I truly enjoy vibling and experiencing first-hand the way it replaces paper business cards, outperforms them in every way and impresses my network.

Okan Kocakaya
Modality Leader at GE Healthcare

Vibl has been a great gift that keeps on giving for my team of sixteen sales representatives. It is not only a business card but more of a marketing and sales deck. We are looking forward to their developments toward enterprise solution to scale our use case.